New Director of Chaplain Services
GTF Opens new Department of Chaplain Services,
And Introduces our new Director, Rev. Carol Waters.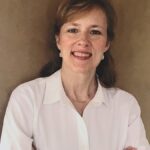 During the recent months of the COVID crisis, it has become apparent to the GTF administration that there is a need within our GTF community for spiritual and emotional support. Many of our current students, faculty, and alumni have shared news of a health crisis, financial crisis, a grief situation, a job loss, etc. The COVID crisis has increased this awareness, but it has always been present, and will be in the future. To respond to the pastoral/spiritual needs of our community, GTF has created a new Department of Chaplain Services.
In addition to one-on-one pastoral care, we hope to see our new Department of Chaplain Services expand in new directions, such as offering zoom support meetings, having spiritual retreats for ministry professionals, and connecting GTF to the surrounding congregations, mosques, and synagogues of Oklahoma City. Given the multicultural and interfaith characteristics of our GTF community, we needed to find a chaplain who embraces that diversity, and can base the chaplaincy on general spiritual guidance and relational ministry. We are excited to announce that we have found the perfect person to fit this unique role. We are happy to introduce our new Director of Chaplain Services, Rev. Carol Waters.
Carol Waters was raised in Dallas, Texas but has lived in Oklahoma for over 20 years.  She attended the University of Texas at Austin and received a B. A. in English. In 1988, she left her native Texas to attend Union Theological Seminary in New York where she received an M.Div. She is a lifelong Presbyterian and has been a minister of Word and Sacrament in the Presbyterian Church, (U.S.A.) for over 25 years. She has served as pastor of small churches in Channelview, Texas; Clinton, Oklahoma; and currently serves as temporary supply pastor of First Presbyterian Church of Elk City, Oklahoma.  Her ministry experience includes five years as a hospice chaplain and a year as a campus minister.  Additionally, she served as part-time stated clerk of Indian Nations Presbytery. In 2016, she completed a two-year training course as a spiritual director through Stillpoint: The Center for Christian Spirituality.  She continues to sense a call to be a spiritual director and is in the process of becoming an independent contractor for spiritual direction for Woven Integrated Health in Oklahoma City. 
To see an introductory letter from Chaplain Waters, please check out our current newsletter.