Dear Friends,
It is with great joy, and humble gratitude, that I serve as the third President of the Graduate Theological Foundation. I have warm memories of the last 24 years of my time in the GTF family, first as a student, then as a faculty member, then as the Chairman of the Board, and now the President and CEO of this great institution.

We are excited to present the new era of GTF! You have landed on a brand-new website, modernized for the modern times. This website is designed for visitors and guests to learn all of the important highlights about who GTF is and what GTF offers.

GTF has weathered the storm of the recent pandemic years and is ready to go forward into the new era of liberal arts education. As we come into the new era of post pandemic life, GTF is offering exciting new programs and events. From our new partnership with the Evangelical Seminary in Matanzas, Cuba, to new initiatives in Oxford, and with new residential courses offered in Sarasota Florida, GTF is on the move. If you are seeking a community of scholars to take new steps in advancing your education, GTF may be the place for you. If you are already a part of this community, either as a faculty, a student, or an alumnus, we are blessed to have you with us.

So let us begin, or continue, our journey together. I am excited and pleased to travel with you as we take GTF into its next era of bringing light into the world through our interfaith, international, multicultural education.

Sincerely,
Paul J Kirbas, D.Min, Ph.D
President and CEO
The Graduate Theological Foundation defines ministry as "service to the improvement and nurture of society and the world community." Due to the blurred lines between the sacred and secular in contemporary society, ministry professionals are continually crafting their role and the nature of their work, a process which takes into account both personal values-based service and public responsibility. Practitioners involved in ministry are self-reflectively aware of the nurturing quality of that activity, and are found in such fields as education, pastoral care and counseling, chaplaincy, mediation, psychology, health care and counseling, sacred music, religious education and other cognate fields.
The Graduate Theological Foundation is a 501(c)(3) not-for-profit ecumenical and interreligious institution providing advanced educational opportunities to practicing ministry professionals, including flexible and convenient online, on-site and distance learning opportunities. The GTF's degree programs are designed for ministry professionals who are unable or disinclined to leave their current place of employment in order to pursue full time residential educational opportunities. We strive to provide quality education to professionals from a variety of faith backgrounds by providing a plethora of study options, as well as providing opportunities to study at collaborating institutions.
The GTF aims to serve those within faith communities who are engaged in the wide range of traditional and emerging forms of ministry as a way to strengthen their quest for a deeper sense of unity both among themselves and in their developing relations with other religious traditions and secular society. We are a gathering of dedicated people in a community of colleagues seeking to learn together through the sharing of professional and vocational experience, insight and reflective knowledge. International in scope and fully ecumenical in purpose, the GTF is open to members of all religious communities as well as secular society.
The GTF Community of Scholars
We are a community of scholars. As an educational institution providing advanced training for credentialed professionals, the Graduate Theological Foundation prides itself on its affiliation with distinguished international scholars who have contributed to the work of this community as Faculty, Fellows, and Honorary Fellows. Click here to see the founding scholars of GTF
The essential work of the GTF is carried out through its several educational degree programs and publication series. All educational degree programs are designed for advanced learning that is self-improving and motivational in nature for fully credentialed professionals in ministry whose common concern is the development of leadership for religious congregations and faith communities. A ministry professional, whether clergy, religious, or laity, is one who is engaged in an educational, pastoral, counseling, or health-related vocation and is licensed, certified, or credentialed appropriate to the respective field of professional activity.
Alumni Employment Record at the time of Graduation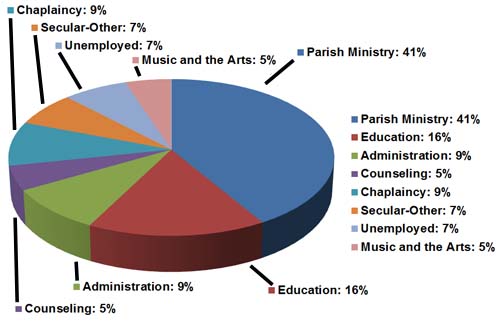 The Graduate Theological Foundation is an ecumenical and interreligious 501 (c)(3) non-profit educational foundation chartered by the State of Indiana. This charter provides that the GTF may offer programs and grant degrees in areas of ministry.  The GTF also engages in the sponsorship of research, publishing of monographs and awarding of grants and fellowships.  The Graduate Theological Foundation does not hold accreditation from a Department of Education approved accrediting agency.
Note:  The Graduate Center for Pastoral Logotherapy, of the Graduate Theological Foundation, is accredited by the Viktor Frankl Institute, Vienna. 
The Graduate Theological Foundation enjoys affiliations with:
The Oxford University Department for Continuing Education
The Centro Pro Unione in Rome
P.R.I.M.E. (Partnering Resources in Ministry Education) programs
A special initiative of the Graduate Theological Foundation, the Bureau of West African Scholars, was founded to serve as a networking mechanism for individuals seeking to learn more about, and contribute to, the study of West African religion and culture. 
"The Doctor of Psychology degree will further prepare me to provide professional, licensed, clinical care to my community diagnosing and treating various mental and substance abuse disorders by providing psychological evaluations and psychotherapy."
"I am deeply grateful for the flexibility of the GTF format, which allows me to continue with my ministry while I study. Further, the opportunity to complete my Ph.D. afforded through GTF's affiliation with Oxford, including the access to exceptional resources and world-class professors, is second to none."
"I have been able to do many college hours online through the years and I absolutely love it. Working full-time in ministry, family, etc. made it really hard to find a Doctorate program that will fit into my busy schedule. When I found GTF I was so extremely happy! The program is amazing and the instructors are absolutely wonderful! I am hoping to apply this newfound knowledge all throughout the many churches who are losing youth and young adults!!!"
"I appreciate the level of education that I received at the GTF. As a psychology major, I studied Logotherapy, a meaning centered therapy by Dr.Viktor Frankl. The professors, all leaders in their fields, critiqued my work as well as gave me weekly verbal encouragement. Dr. Ann Graber, Head of the Graduate Center for Pastoral Logotherapy, was a gift to me as she evaluated and affirmed my work as I prepared to become a Logotherapist. I recommend GTF for mature ministers who wish to explore their interests which will enhance them intellectually, spiritually and heighten their abilities in their ministry."
"It is at this time in my life that I am driven by experience and determination to fulfill a calling in my life which is one-step achievable through GTF's doctoral program in ministry with specialization/emphasis in health care ministries. I sincerely appreciate GTF's academic non-traditional approach and techniques, which encompasses writing, thinking and learning into one process. The one-on-one ongoing interactive communication with the Professors/Instructors who are experts in the field has added more than scholarly guidance and expression, but an opportunity to assess and reassess the ideas and concepts of what's being taught."
"The Foundation's model of education, which allows for an accumulation of credits from various venues and study alternatives, has served me well. It has provided me with the flexibility to tailor a program of study around my own educational interests and needs. In accordance with the Foundation's standards and with its prior approval, I have studied at the University of Oxford Theology Summer School, Oxford, United Kingdom; Auckland University of Technology, Auckland, New Zealand; and The Center for Process Studies, Claremont, California."
The flexibility of coursework and the content of material covered in the Doctor of Sacred Music program not only matches what you would learn in the traditional 'brick and mortar' setting, the information I'm learning is extremely practical to my career as a church musician and educator. With each completion of a course, I cannot wait until enrolling for my next area of study to enrich my experiences. There is a level of excitement during my readings that is difficult to describe. I feel connected with the texts and responses from the faculty, which help to define and reaffirm my role as a church musician. This is a program that is the right fit of my time, talents, and my growing role of service in church music. I couldn't be happier knowing I made the right choice."
"The teachings, techniques and philosophy of Viktor Frankl's logotherapy are the core of my psychotherapy practice. In particular, Frankl's recognition of the central importance of the human spirit, an aspect of our existence that current psychological pedagogy largely ignores or denies. The promotion of this teaching is my ministry within my psychotherapy practice. GTF's Graduate Center for Pastoral Logotherapy distance learning program provided the perfect opportunity to continue my studies with an extraordinary array of accomplished instructors, most of whom I would have ordinarily been unable to work with given their geographical range."
"I was apprehensive initially about online academia, having little experience outside a traditional educational setting. However, my choice to attend GTF has been a good one. My professor, Dr. Couturier, is a phenomenal instructor, and the online format is convenient for my current lifestyle. It is my hope to share my newfound knowledge with churches that struggle to survive in a changing world."