Dennis Billy, C.Ss.R.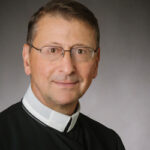 Dennis Billy, C.Ss.R. is a Foundation Fellow and Karl Rahner Professor of Catholic Theology. Professor Emeritus of the Alphonsian Academy of Rome's Pontifical Lateran University, he currently serves as Professor and holder of The Robert F. Leavitt Distinguished Service Chair at St. Mary's Seminary and University in Baltimore, Maryland. From 2008-2016, he was scholar-in-residence, professor, and holder of the John Cardinal Krol Chair of Moral Theology at St. Charles Borromeo Seminary, Overbrook in Wynnewood, Pennsylvania. Fr. Billy is an American Redemptorist of the Baltimore Province. He comes from Staten Island, New York, and was educated there through high school in local Catholic schools. He holds an A.B. in English from Dartmouth College (Hanover, New Hampshire) and studied for the priesthood in the Redemptorist seminary system. After his priestly training, he went on to earn a Th.D. in Church History from Harvard University, a M.A. in Medieval Studies from the University of Toronto, an M.M.R.Sc. in Moral Theology from the Katholieke Universiteit of Leuven in Belgium, an S.T.D. in Spirituality from The Pontifical University of St. Thomas (Angelicum, Rome), and a D.Min. in Spiritual Direction from the Graduate Theological Foundation. In 2016, he delivered the Lord Robert Runcie Convocation Lecture at the Graduate Theological Foundation and was inducted as a Fellow in appreciation of his scholarly contributions as Karl Rahner Professor of Catholic Theology.  He also serves on the staff at Notre Dame Retreat House in Canandaigua, NY.  Father Billy has authored more than 40 books and published over 400 articles in a variety of scholarly and popular journals.  He is also very active in retreat work and in the ministry of spiritual direction.
---
Recent Books by Dennis J. Billy, C.Ss.R.
Additional Books 
Religious Affiliation
General Areas of Interest
Theology; Spirituality
Spiritual Direction
Ecclesiastical History
Specialized Areas
Catholic Moral Theology
Christian Spirituality
Spiritual Direction
Areas of Service
Thesis Supervision
Project Consultant
Online Courses
Languages
Video and Audio Courses