Dr. Maria Marshall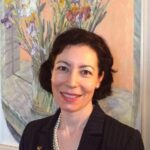 GTF is delighted to introduce Dr. Maria Marshall as the Mignon Eisenberg Professor of Logotherapy at the Graduate Theological Foundation teaching Viktor E Frankl's Logotherapy and Existential Analysis. Dr. Marshall has been acquainted with Logotherapy since her childhood, meeting Viktor E. Frankl in Vienna, Austria, with her father, Dr. Paul Ungar, in 1975.
She began her studies in psychology at the University of Budapest, Hungary. She completed one year of Theology at the Peter Pazmany Academy of Divinity, Budapest, Hungary.
In 1991, she moved to Canada and completed her bachelor's degree with First Class Honours in Psychology at the University of Calgary, Alberta. Her Honours thesis explored parent-child dyadic interactions.
She continued her studies at Hardin-Simmons University, Texas, where she completed her master's degree in Counseling and Human Development. Her mentors were Drs. Dorothy and Robert C. Barnes, Professors of Counselling and Human Development.
She returned to Canada where she earned her PhD Degree in Counselling Psychology at the University of Alberta in Edmonton. Her Doctoral Dissertation was entitled: Viktor E. Frankl's meaning-oriented approach to counseling psychology (1999).
She worked as a Registered Counselling Psychologist in Alberta, British Columbia, and Nova Scotia.
She was a presenter at the International Congress of Logotherapy in Dallas, Texas, in 1995, where she met Dr. Mignon Eisenberg, Founder of the Chicago, and the Israel Institutes of Logotherapy.
Subsequently, she completed her training in Logotherapy and Existential Analysis, with Dr. Elisabeth Lukas, who developed the Logotherapy curriculum at the South German Institute of Logotherapy, Furstenfeldbruck, Germany.
In 2000, she was invited to visit Mrs. Elly Frankl, and to offer a presentation at the Poliklinic Hospital in Vienna, Austria.
She lectured at the psychology program, University of Portsmouth, England, UK.
She earned the Diplomate Clinician in Logotherapy credential with the Viktor Frankl Institute of Logotherapy, USA, and become Lifetime and Faculty member of the Institute.
In 2011, she was awarded the Joseph B. Fabry Founders Award by the Viktor Frankl Institute of Logotherapy. With her husband, Dr. Edward Marshall, she co-founded the Ottawa Institute of Logotherapy, Ottawa, Canada, accredited with the International Association of Logotherapy and Existential Analysis, Viktor Frankl Institute Vienna.
Currently, she is a Registered Psychotherapist with the College of Registered Psychotherapists of Ontario, Canada.
She is the mother of five children.