Juan A.Vera Méndez
ENGLISH VERSION: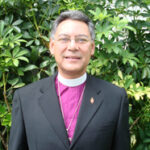 Juan A. Vera Méndez is Professor of Theology at the Graduate Theological Foundation. He was born and raised in Puerto Rico and is currently an Associate Professor of Theology and Ethics at the Interamerican University, Bayamon Campus. He is also a Bishop Emeritus of the Methodist Church of Puerto Rico after fulfilling the maximum term as its resident bishop. He is a proud graduate of public education in Puerto Rico, starting from primary school until receiving the Bachelor of Arts degree in Secondary Education from the University of Puerto Rico. Later on, he went to the Evangelical Theological Seminary of Puerto Rico where he obtained the Master's Degree in Theology and Divinity in 1981. He was ordained a deacon in 1978 and an Elder in 1981 in the ministry of the Methodist Church. In 1998 was consecrated as the second Puerto Rican Methodist Bishop. This was followed by his election as the president of the College of Methodist Bishops in Latin America and the Caribbean (2000-2007). In 2001 he received the Doctor of Ministry degree from McCormick Theological Seminary in Chicago, Illinois where he was the first Latino student to receive the coveted John Randall Hunt Prize Award for writing the best thesis in his class. He went on to receive a Ph.D. in Philosophy and Theology from the Graduate Theological Foundation in 2009 and a second Ph.D. in Theological Studies in 2011 from the Interamerican University in Puerto Rico where he now teaches. He has lectured widely on his areas of concern and expertise such as ecumenism, and the great challenges in peace work, as well as in ecological studies. These efforts have taken him to lecture in Argentina, Bolivia, Chile, Cuba, Ecuador, Honduras, Angola, Mozambique, Panamá, México, the United States, and, of course, Puerto Rico. In 2010 he was awarded the "Dr. Martin Luther King, Jr. Award" for his work in favor of unionized workers and in support of the struggle for peace in Puerto Rico.
Books 
Palabra con Filo Liberador: De la conciencia solidaria a la transformación social, Editorial Gaviota, San Juan, Puerto Rico, 2008.
Religious Affiliation
Methodist Church of Puerto Rico (Bishop Emeritus)
General Areas of Interest 
Ecumenism
Interreligious Relationships
Peace
Ecology 
Specialized Areas 
Ecumenism
Christian Education
Theology 
Languages:
Areas of Service 
Thesis Supervision
Project Consultant
Online Courses
Online Course Offering
Courses in Spanish
Ecumenismo y Reconciliación
Ecumenismo y Diálogo Interreligioso
If there is an Online Course that you would like to take which is not listed, please click here to fill out our Online Course suggestion form for our faculty members.
---
Versión en Español: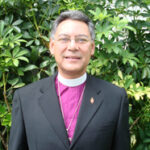 Juan A. Vera Méndez es Profesor de Teología del Graduate Theological Foundation. Es natural de Puerto Rico y ocupa en estos momentos, la plaza de Catedrático Asociado de Teología y Ética en la Universidad Interamericana, Recinto de Bayamón. También es Obispo Emérito de la Iglesia Metodista de Puerto Rico. Es fruto de la escuela pública de su país y en el 1977 finalizó un bachillerato en Artes con una concentración en Educación Secundaria de la Universidad de Puerto Rico. Luego entró al Seminario Evangélico de Puerto Rico, donde hizo una Maestría en Teología y Divinidades (1981). Fue ordenado Diácono (1978) y Presbítero en el 1981. En el 1998 fue consagrado como el segundo obispo Metodista puertorriqueño. También fue electo como presidente del Colegio de Obispos Metodistas de América Latina y el Caribe (2000-2007).  En el año 2001 terminó un primer doctorado en Ministerio en el McCormick Theological Seminary en Chicago, Illinois siendo el primer estudiante hispano en recibir el premio The John Randall Hunt Prize Award a la mejor tesis de esa clase graduada. En el año 2009 realizó un doctorado en Filosofía y Teología (Ph.D.) de Graduate Theological Foundation y en el 2011 culminó un tercer doctorado en Filosofía con Concentración en Estudios Teológicos de la Universidad Interamericana de Puerto Rico, (Ph.D.). Ha dictado conferencias especialmente enfocadas en temas como el ecumenismo, los grandes desafíos que implica trabajar a favor de la paz y temas ecológicos. Ha dictado conferencias en Argentina, Bolivia, Chile, Cuba, Ecuador, Honduras, Angola, Mozambique, Panamá, México, los Estados Unidos de Norteamérica y Puerto Rico. En el año 2010 recibió el Premio "Dr. Martin Luther King, Jr." por sus acciones a favor de los obreros y la lucha por la paz en Puerto Rico. 
Libros 
2008, Palabra con Filo Liberador: De la conciencia solidaria a la transformación social, Editorial Gaviota, San Juan, Puerto Rico. 
Afiliación Religiosa 
Iglesia Metodista de Puerto Rico (Obispo Emérito) 
Áreas Generales de Interés 
Ecumenismo
Relaciones interreligiosas
Temas relacionados con la Paz
Ecología 
Áreas de Especialización 
Ecumenismo
Educación Cristiana
Teología 
Idiomas
Áreas de Servicio
Supervisión de tesis
Consultor de Proyectos
Cursos Online
Cursos Online
Cursos en Español
Ecumenismo y Reconciliación
Ecumenismo y Diálogo Interreligioso