Robin Gibbons, Ph.D.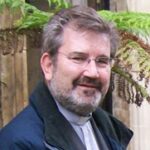 Robin Gibbons is Alexander Schmemann Professor of Eastern Christianity. He was professed as a Benedictine Monk at St Michael's Abbey Farnborough in England in 1973 and ordained priest in 1979. It was there that he became introduced to the Eastern Church, especially the Byzantine Tradition. He is also an iconographer and one of his major works can be found in the Monastery of Christ in The Desert (Abiquiu, New Mexico). He later transferred to the Eastern Rite (Greek Catholic). Canon Gibbons studied Theology at the University of Kent, doing his Master's in Theology and his Ph.D. in Liturgy at Heythrop College, University of London, later taking a Master of Studies (M.St.) degree in Reformation history at Cambridge (Trinity Hall). He is also a member of the Academy of Teaching and Learning, a Fellow of the College of Preceptors, and a Fellow of the College of Preachers. He has specialized in three related areas: Liturgy, the Art and Architecture of the Christian Church and Eastern Christianity, and has taught (and still teaches) in these areas in several universities (London, Surrey, Cambridge, and Oxford), as well as seminaries and other academic institutions in the U.K. He acted as a Monastic formator in two monastic communities in the United States. Canon Gibbons has written many articles and been a contributor to several books, in 2006 publishing a small monograph on "The Eastern Church" and a major work on Christian space, House of God: House of the People of God (SPCK 2006). He was Editor for Harper Collins' extensive revision of The Sunday Missal 2011 and the Weekday Missal 2012. At present, he is engaged in writing a book on Liturgical formation.
In May 2012, he was installed as the International Ecumenical Canon of All Saints' Anglican Cathedral in Edmonton, Canada, at a Solemn Evensong celebrated by the Anglican bishop of Edmonton. He is also Ecumenical Canon to All Saints' Cathedral College in Edmonton. Canon Gibbons is a Visiting Research Fellow attached to the Centre for Eastern Christianity in Heythrop College London. A member of the Faculty of Theology at the University of Oxford, he is also Pastoral Director of the Oxford Theology Summer School and the Director of the Department for Continuing Education's flagship OUSSA Summer School. He is also the Department's Director of Studies for Theology and Religion and a Departmental Lecturer.  He is now a member of Regents Park College in the University of Oxford. He is Assistant Pastor for the Greek Catholic Melkite Church in London and Great Britain but also helps in looking after Eastern Catholic members of Oxford University as well as being one of the Ecumenical Partners in the Benefice of Steeple Aston, North Aston and Tackley in the Anglican Diocese of Oxford.
---
News
Independent Catholic News: Sunday Reflections with Fr. Robin Gibbons
Books 
Consecrated For Worship 
Celebrating Sunday Evening Prayer
Religious Affiliation
Catholic (Priest, Eastern Rite, Melkite Order)
General Areas of Interests
Theology
Spirituality & Direction
Ecclesiastical History
Liturgy/Worship/Music
Specialized Areas
Medieval/Monastic Spirituality
Eastern Orthodox Theology
Liturgy & Sacraments (East/West)
Roman Catholic Art & Architecture 
Articles
"The Dhimmi: Dhimmi and Dhimmitude in the Ottoman Empire" in Living Stones Yearbook 2014: Christianity engages with Islam: contexts, creativity and tensions (Melisende UK Ltd, pp. 87-106)