Jude Onogbosele, J.C.D.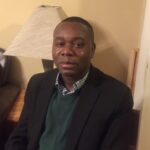 Jude Onogbosele
 is Visiting Professor of Canon Law at the Graduate Theological Foundation. Prior to this engagement, Rev. Dr. Onogbosele served in various pastoral capacities in both his native Nigeria and the United States. He was Parochial Vicar of Saint Patrick Catholic Church, Ugbowo, Benin City (2003-2004), and Parochial Administrator of Saint Paul Catholic Church, Benin City (2004-2005). In the United Sates, he served as Priest-in-Residence, Sacred Heart Church, Manassas, Virginia (2009-2011), Pastor, Saint Edward the Martyr Catholic Church, Sisters, Oregon (2011-2016), Judge Pro Tem (February, 2011- December, 2014) and Judicial Vicar (December, 2014- June, 2016), Diocese of Baker, Oregon  .
While in Baker, Dr. Onogbosele was a member of the Presbyteral Council and College of Consultors. His canonical practice saw him write as many as 80 formal nuliity sentences, process numerous documentary procedures, supervise the partial revision of diocesan statutes—including the revision and promulgation of the Constitution and By-laws of the Presbyteral Council and the College of Consultors. He also oversaw other canonical processes such as the reduction of public oratories to profane but non-sordid use, incardination/excardination of clerics, heirarhical recourse following removal of a pastor from office, and organized the annual Region XII Canon Law Society of America Conference on Mitis Iudex Dominus Iesus, Bend, Oregon (April 12-14, 2016).
An alumnus of SS. Peter and Paul Major Seminary, Ibadan, Nigeria, Dr. Onogbosele holds a Bachelor of Arts degree in Philosophy from the University of Ibadan (June, 1998) and a Bachelor of Theology degree from the Pontifical Urban University, Rome (June, 2002). His post-ordination studies occasioned his obtaining various degrees and certificates in canon law, namely, Doctor of Canon Law, Catholic University of America, Washington, D.C. (January, 2018), Licentiate in Canon Law, Saint Paul University, Ottawa, Canada (January, 2008), Master of Canon Law, University of Ottawa (May, 2007), Graduate Certificate in Ecclesiastical Administration, University of Ottawa/Saint Paul University (May, 2008), and Graduate Certificate in Canonical Practice, University of Ottawa/Saint Paul University (October, 2007).                                      
Religious Affiliation: 
Publications:  
Eucharistic Sharing in Mixed Marriages as a Graced Context for Ecumenism in Nigeria, Canon Law Studies 584, Washington, DC: Catholic University of America, 2017
"The Tribunal: Absolute Competence in Formal Marriage Trials," The Diocesan Chronicle, vol. 4, no. 3 (February 10, 2013), p. 3.
"The Tribunal: Select Elements of a Formal Nullity Trial," The Diocesan Chronicle, vol. 3, no. 24 (November 18, 2012), p. 3.
"The Marriage Tribunal: Initial Reflection," The Diocesan Chronicle, vol. 3, no. 22 (October 21, 2012), p. 3.
Lectures:
"The Essential Notion of Marriage in the Code of Canon Law and its Application to Contemporary Notions of Marriage." 5th Annual Northwest Oregon Theological Conference, La Grande, Oregon (October, 2013)
"Same Sex Unions, Domestic Partnerships, or Marriage: Just what is Marriage?" 4th Annual Northwest Oregon Theological Conference, La Grande, Oregon (October, 2012)
Areas of Specialization:
Ecumenism, Mixed Marriage, and Sacramental Sharing
Tribunal Administration and Management
Matrimonial law and jurisprudence
Administrative Hierarchical recourse           
Present Research Interests:
Mixed Marriage, Eucharistic Sharing, and the Fostering of Ecumenism
Ecumenical Opportunities in Marriage Nullity Trials
Harmonizing the discordant areas in the General Norms of the Latin and Eastern Codes
Diocesan Organization in the Nigerian Church: general interest in matters of ecclesiastical governance, especially the organization and functioning of diocesan and parochial structures 
Areas of Service:
Thesis Supervision
Project Consultant
Online Courses